Rossendale 40D
Daves Sheds was the model belonging to one of our long serving members who unfortunately passed away after a 20 year battle against cancer. Dave left the model for the club but unfortunately the people clearing the house weren't aware of just what belonged to the model and disposed of the back scene and the control panel along with the lighting and some other items. The remains of the model are now installed in our club room and it is planned to rebuild it based on the photos of the original shown below. It will however be converted and rewired to operate on DCC to simplify the replacement control panel so that just the points are operated from it. The turntable which was a Fleichmann model with its controls on the lost panel will be replaced with a Peco one and again operated by DCC.
Before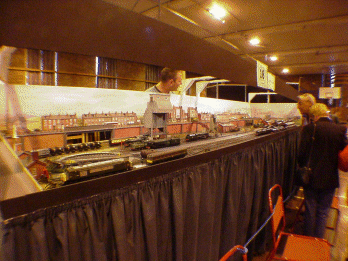 Now
The turntable is here being replaced with a Peco kit version which is motorised by a "Locomotec" drive mechanism driven via a DCC decoder.
The new backscene built to replace the one that was discarded in the house clearance.
The original was hand painted but this has been replaced with a "Photorealistic" version from Guagemaster.
As above but looking from the other end of the model.
A close up of the buildings and fencing being installed along the road at the back of the layout.
One of the "Team" working on the rear scenery of the model.
Lights along the roadway have now been fitted
Some of the houses and shops are also having lighting installed